BLAM

BLUE LUCY AUTOMATION FOR MEDIA
DESIGNED TO MEET THE COMPLEX CONTENT PRODUCTION AND DELIVERY REQUIREMENTS FOR THE MULTIPLATORM AGE
BLAM combines media management, workflow orchestration, user task management and advanced video processing in a single solution.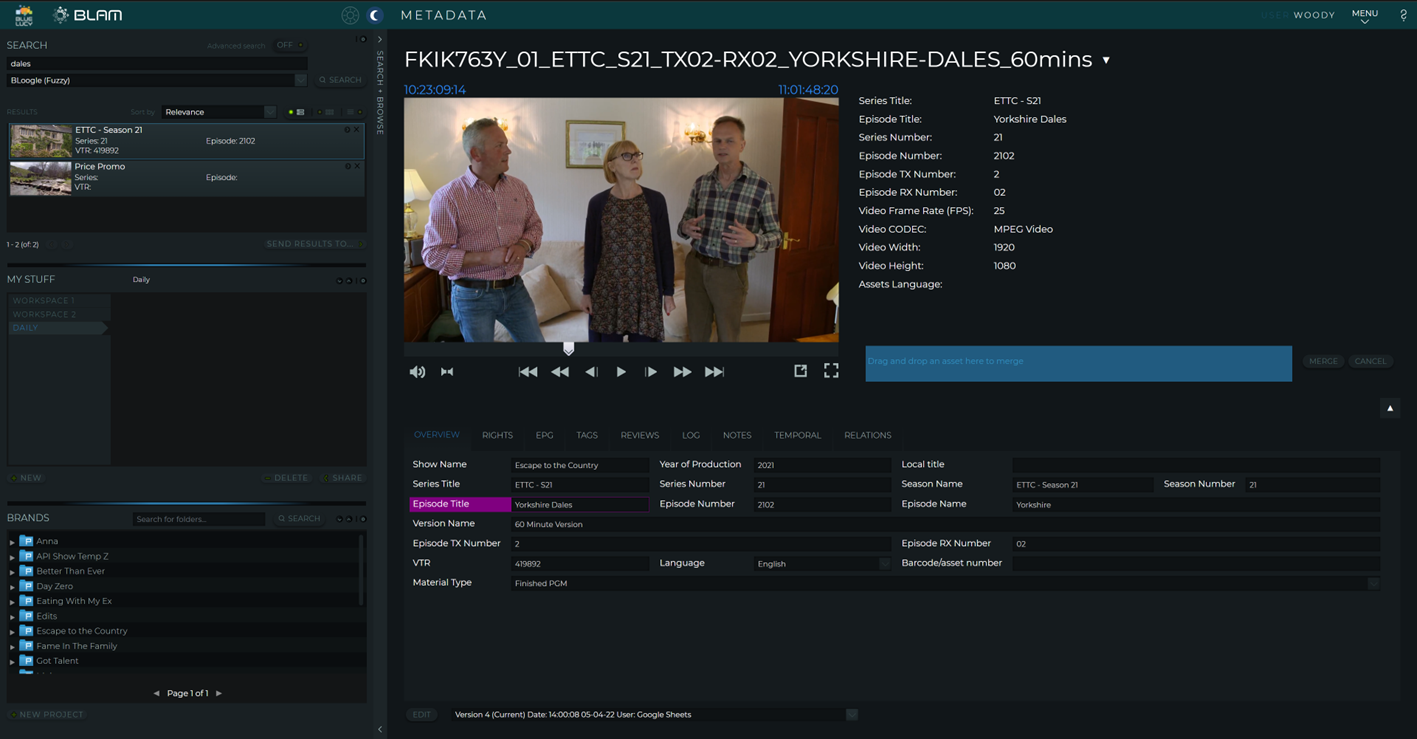 Metadata
BLAM workflows are entirely customisable through an easy to use drag-and-connect interface.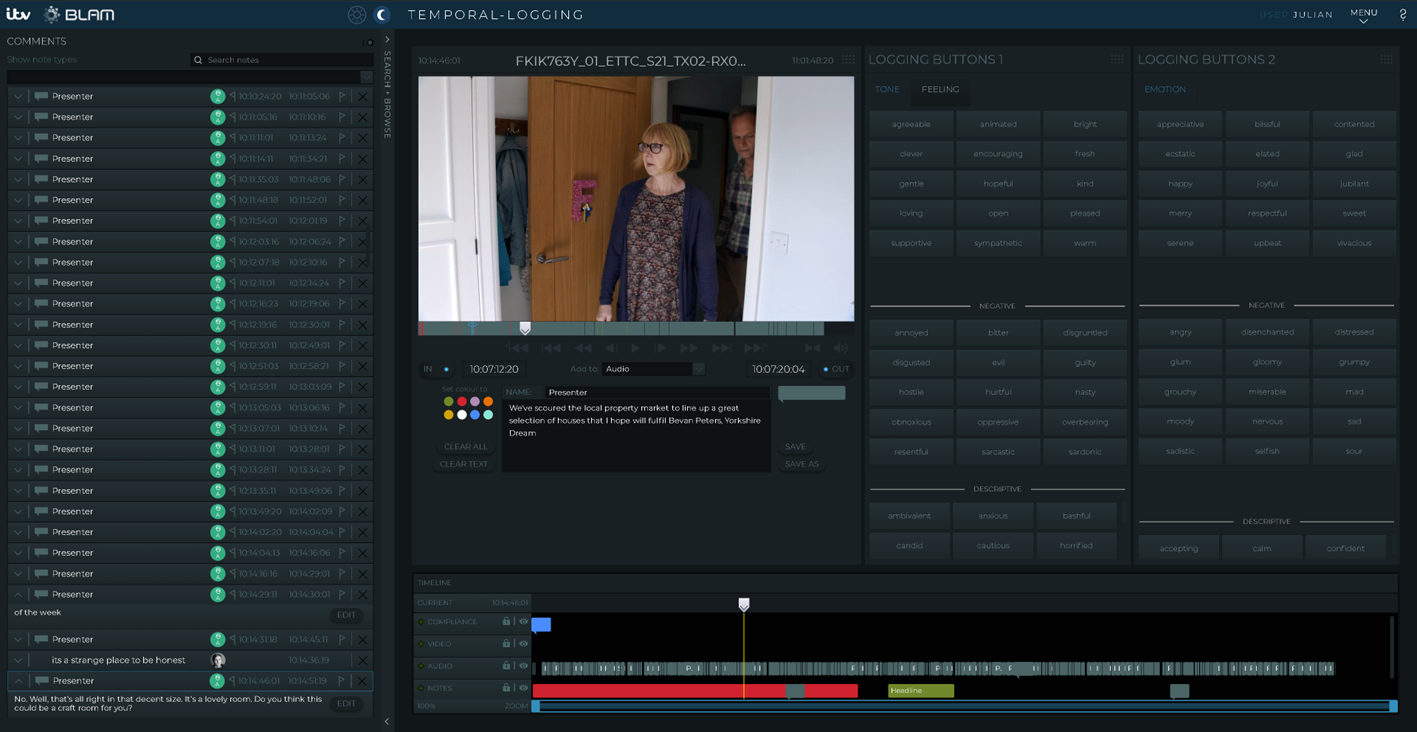 Logging
BLAM's lightning-fast, simplified search function supports precision filtering and asset relationship management.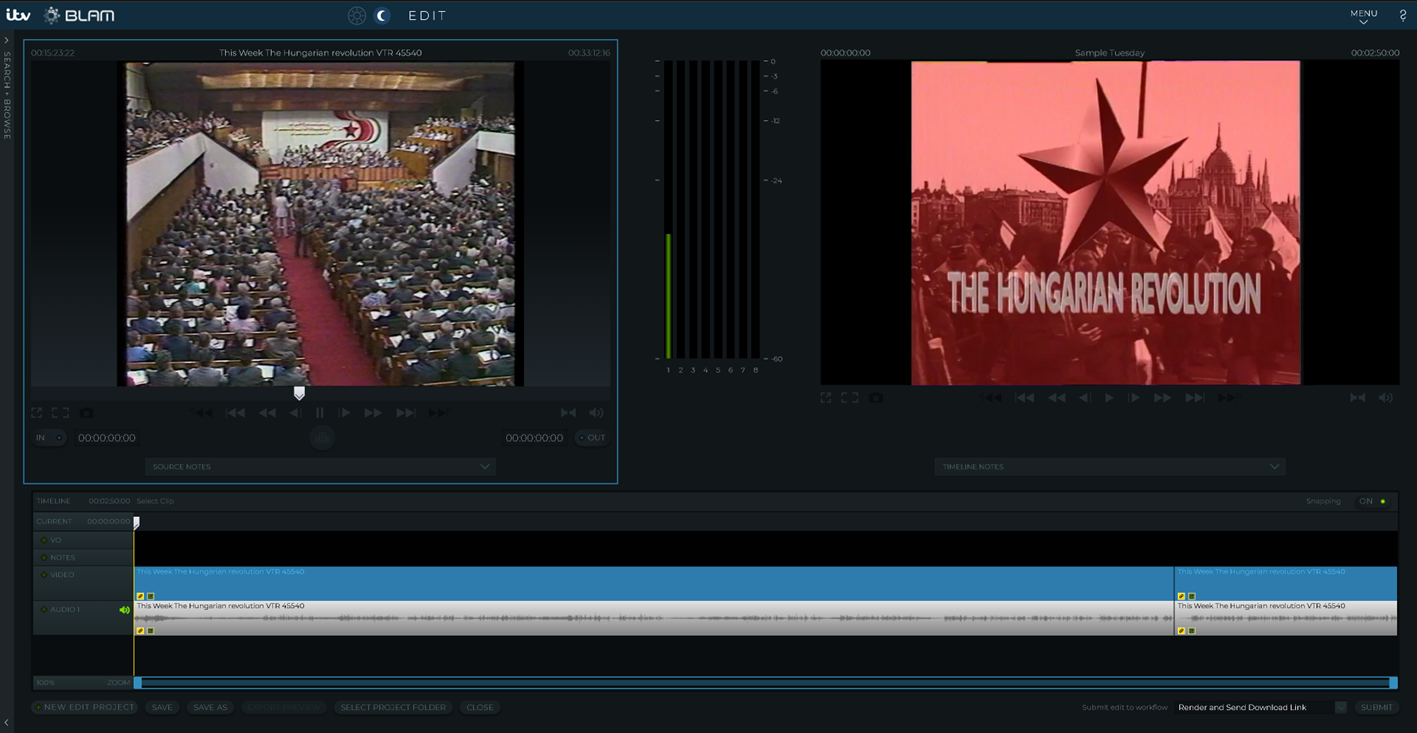 Edit
The configurable dashboard provides an at-a-glance view of the system status.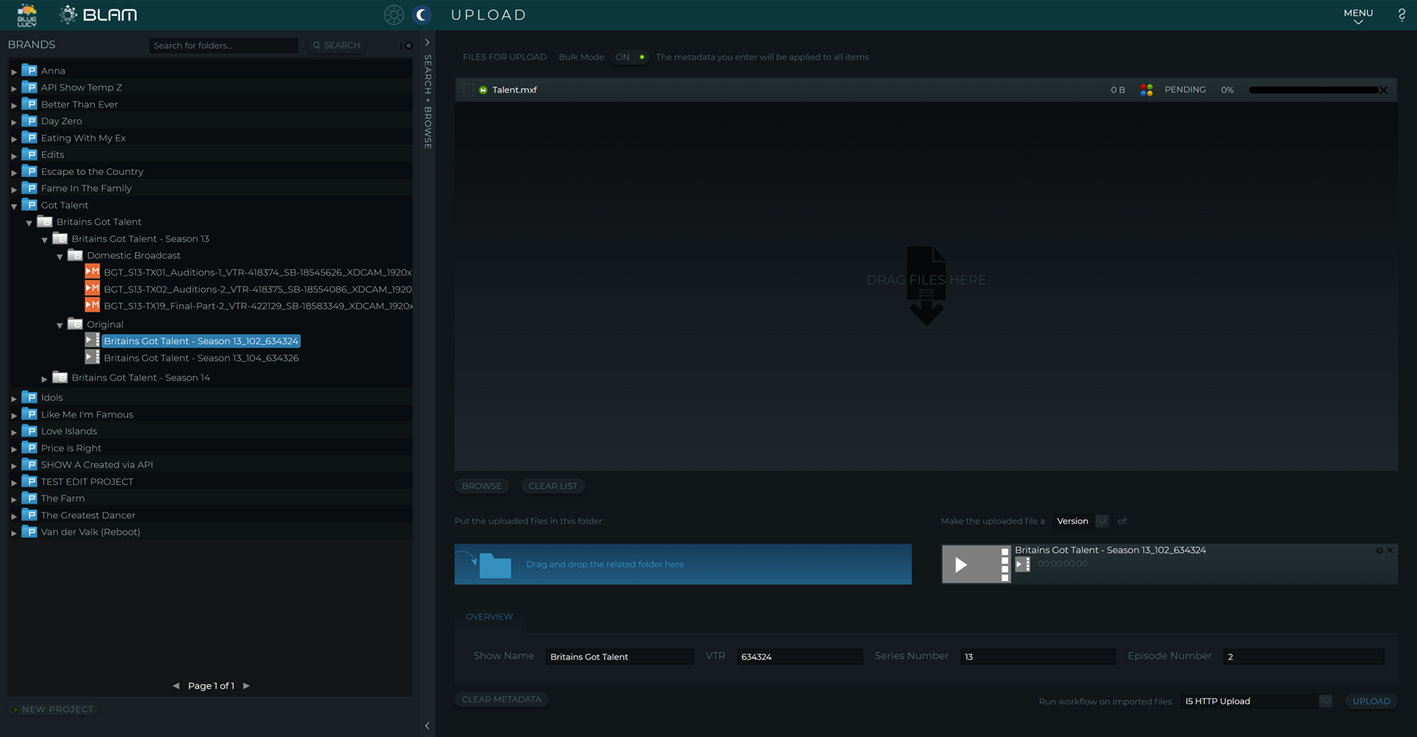 Upload
The presentation and layout of metadata is entirely configurable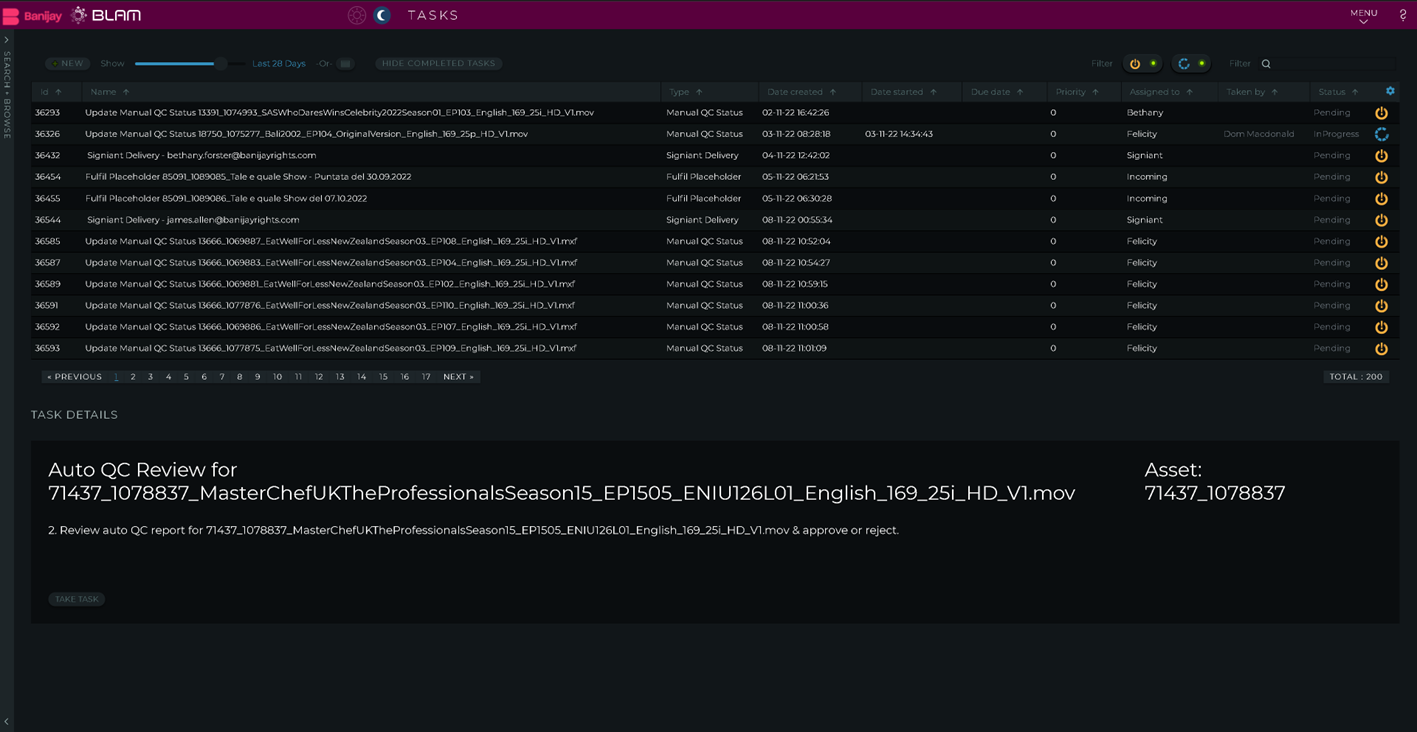 Tasks
Service providers can effortlessly manage user-access across multiple client Organisations and Groups.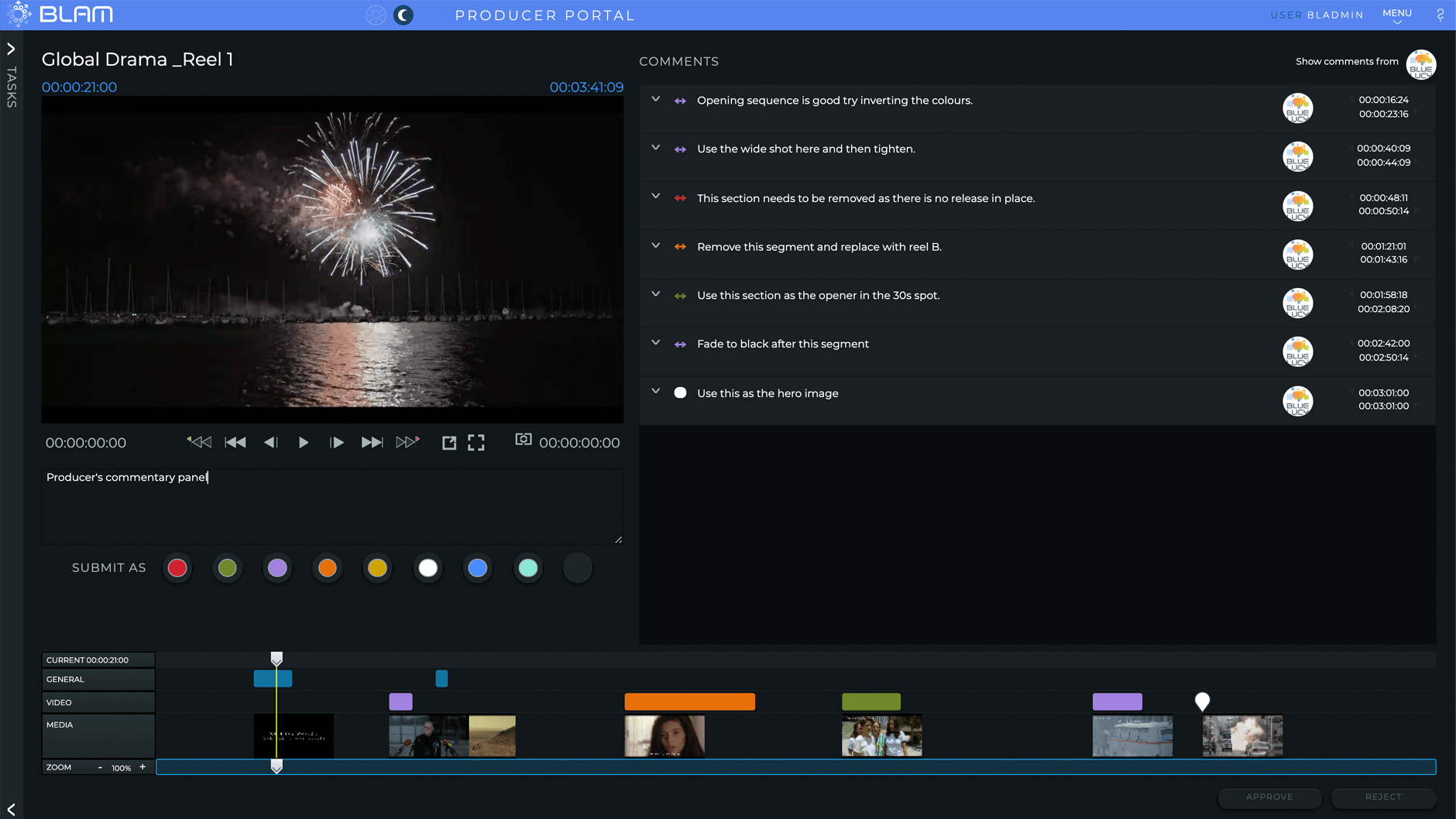 Producer Portal
Provides administrators with an overview of all storage under BLAM management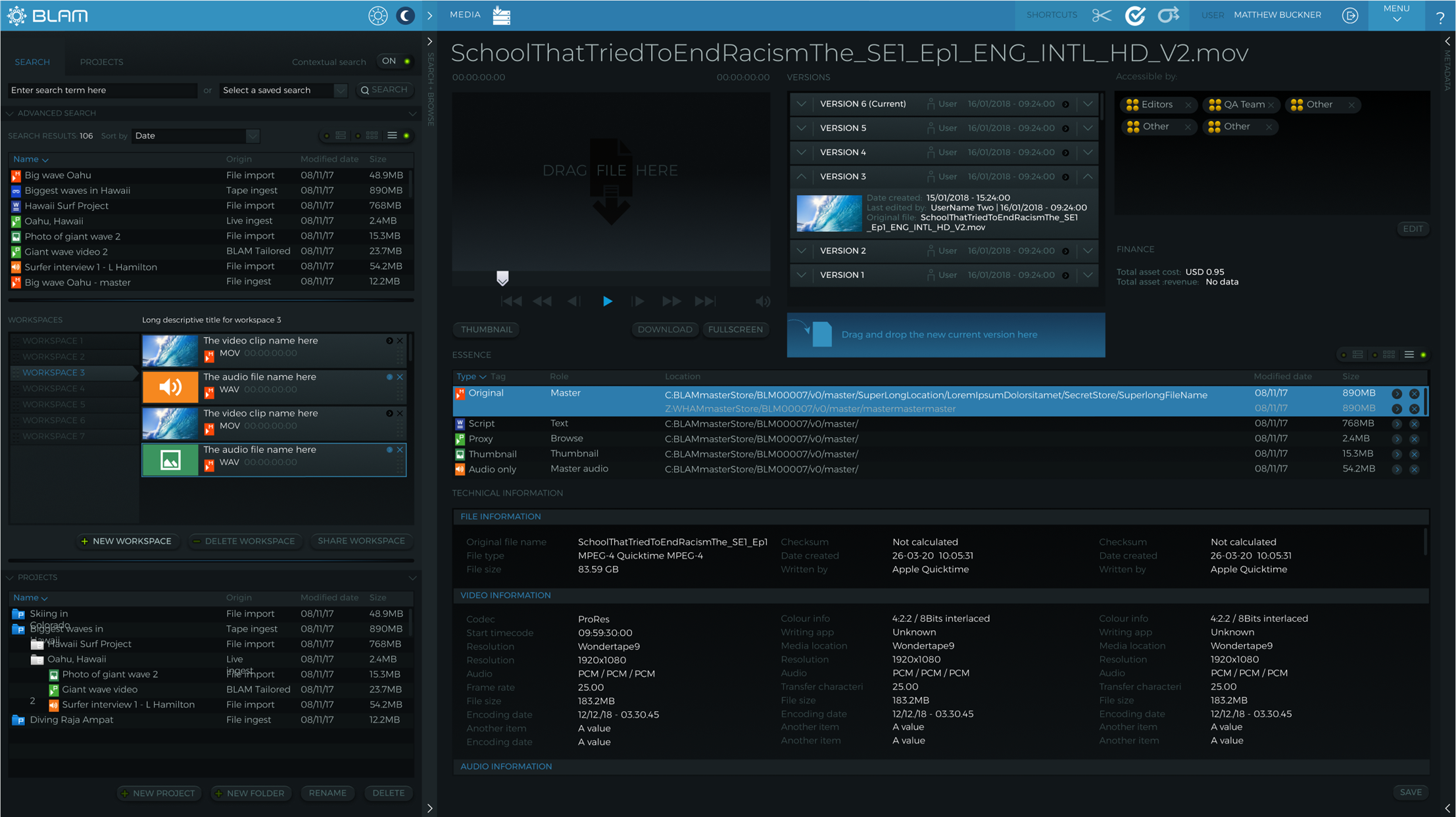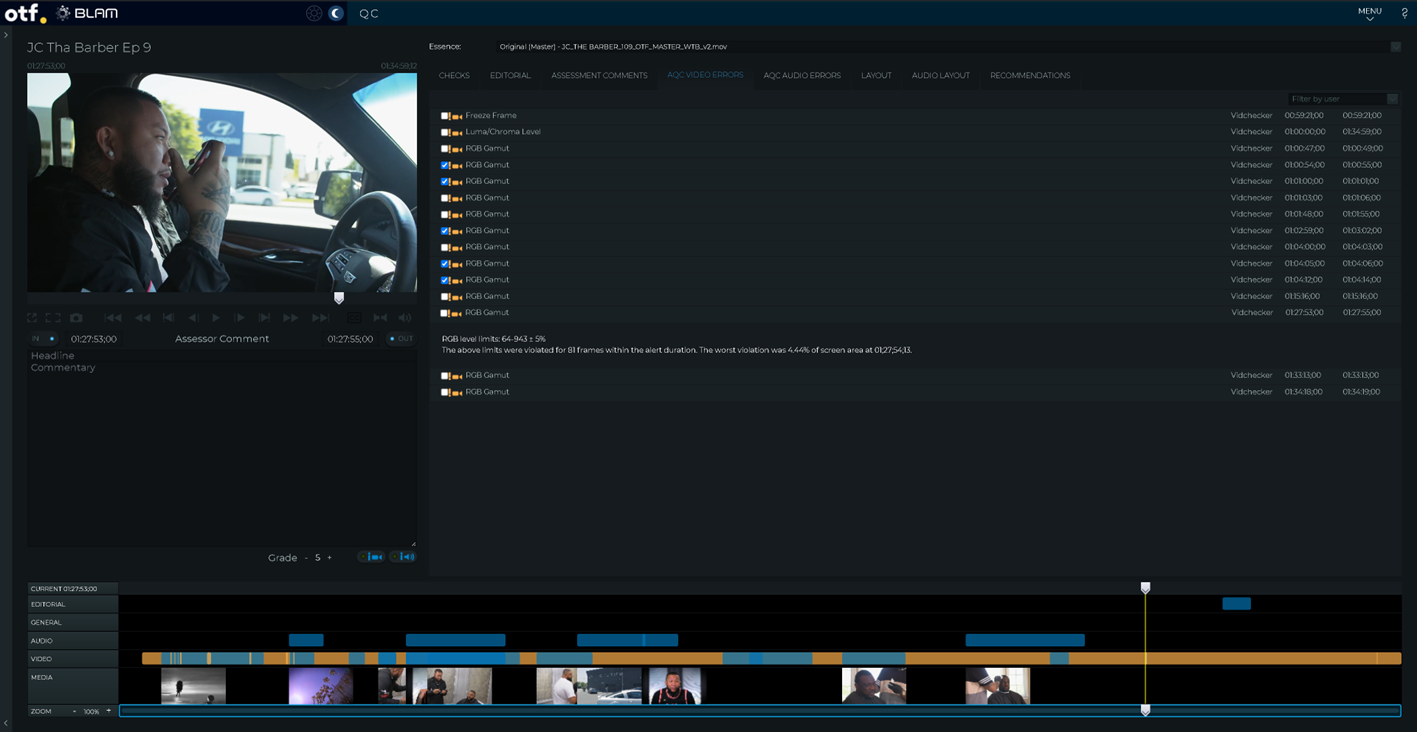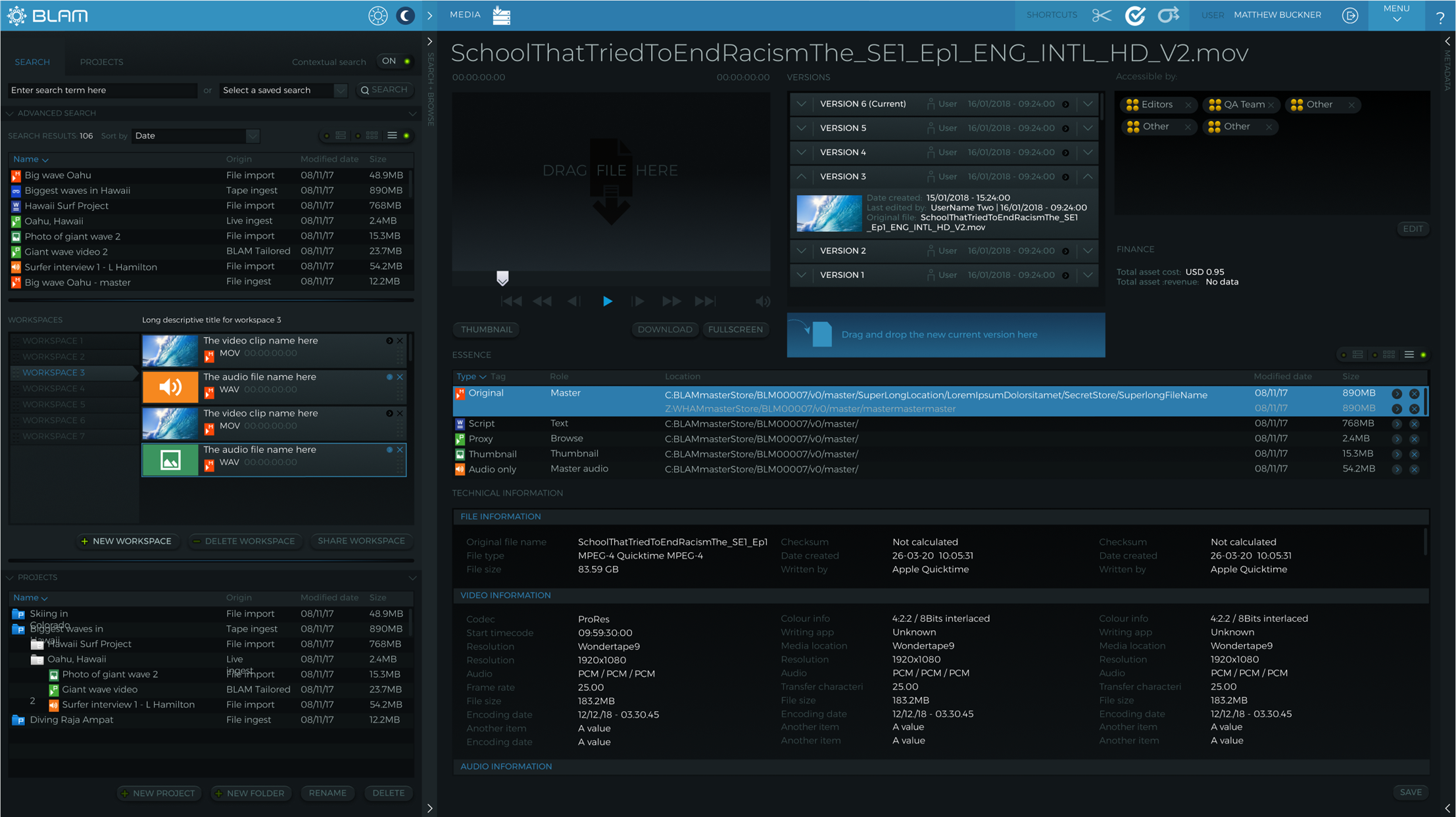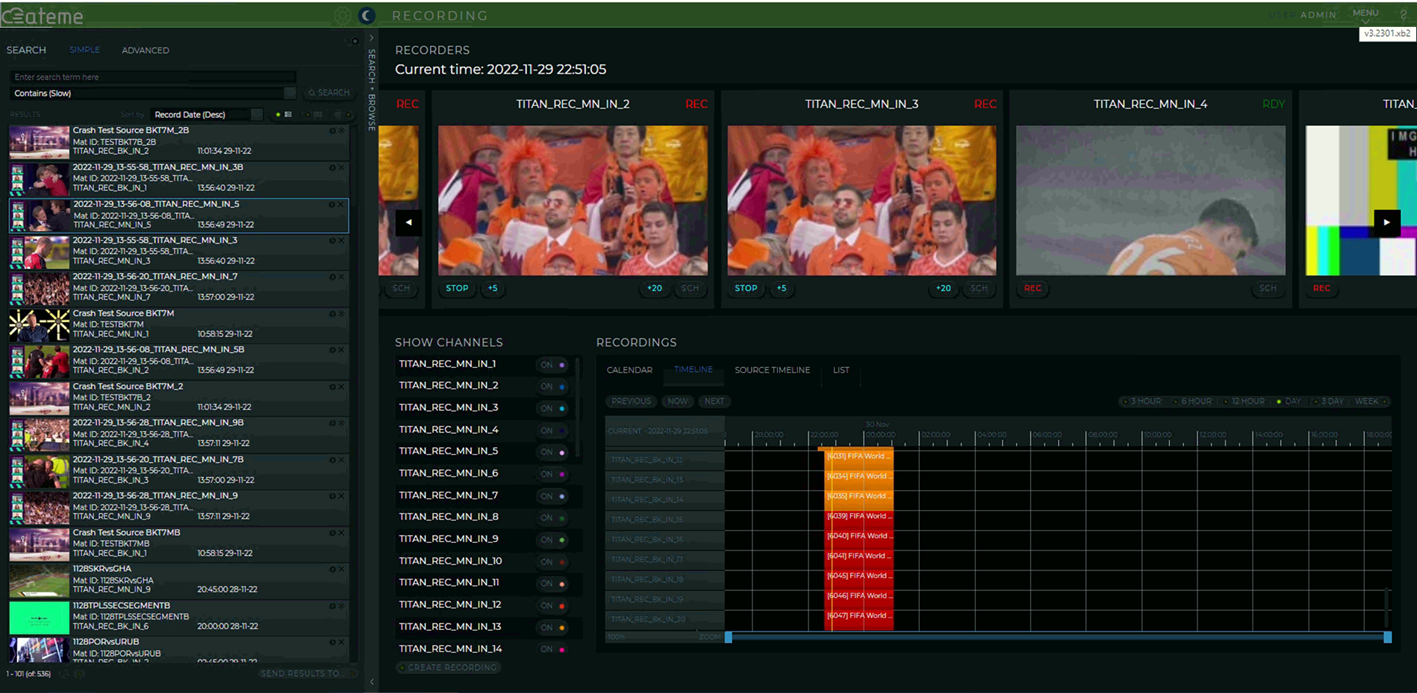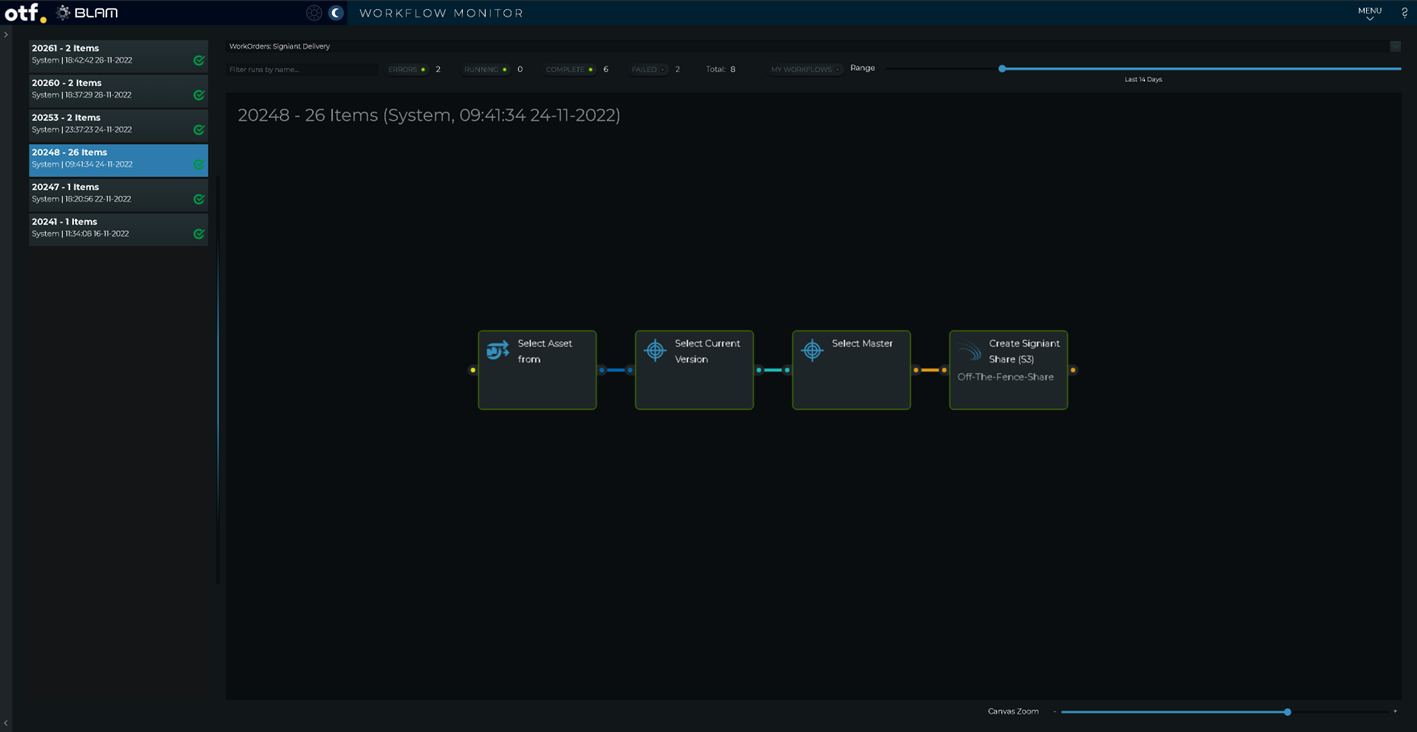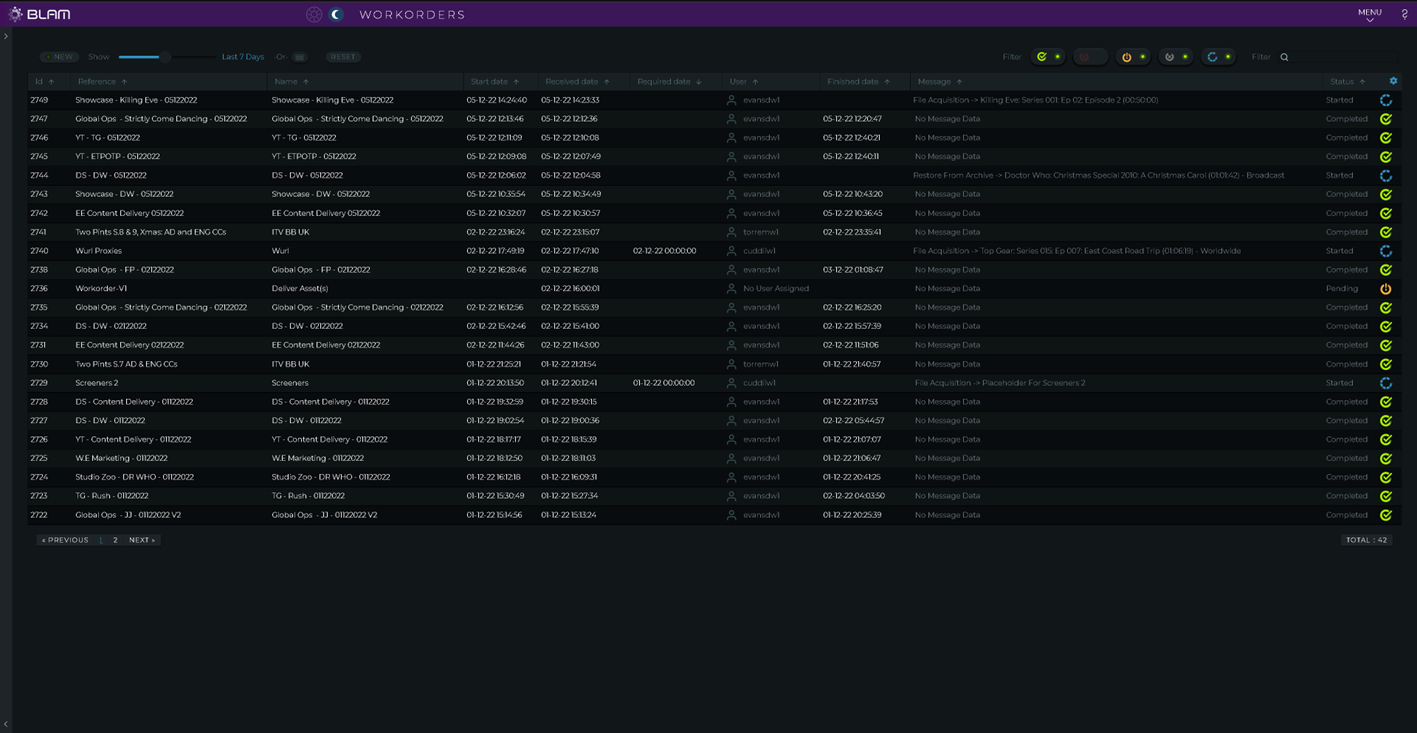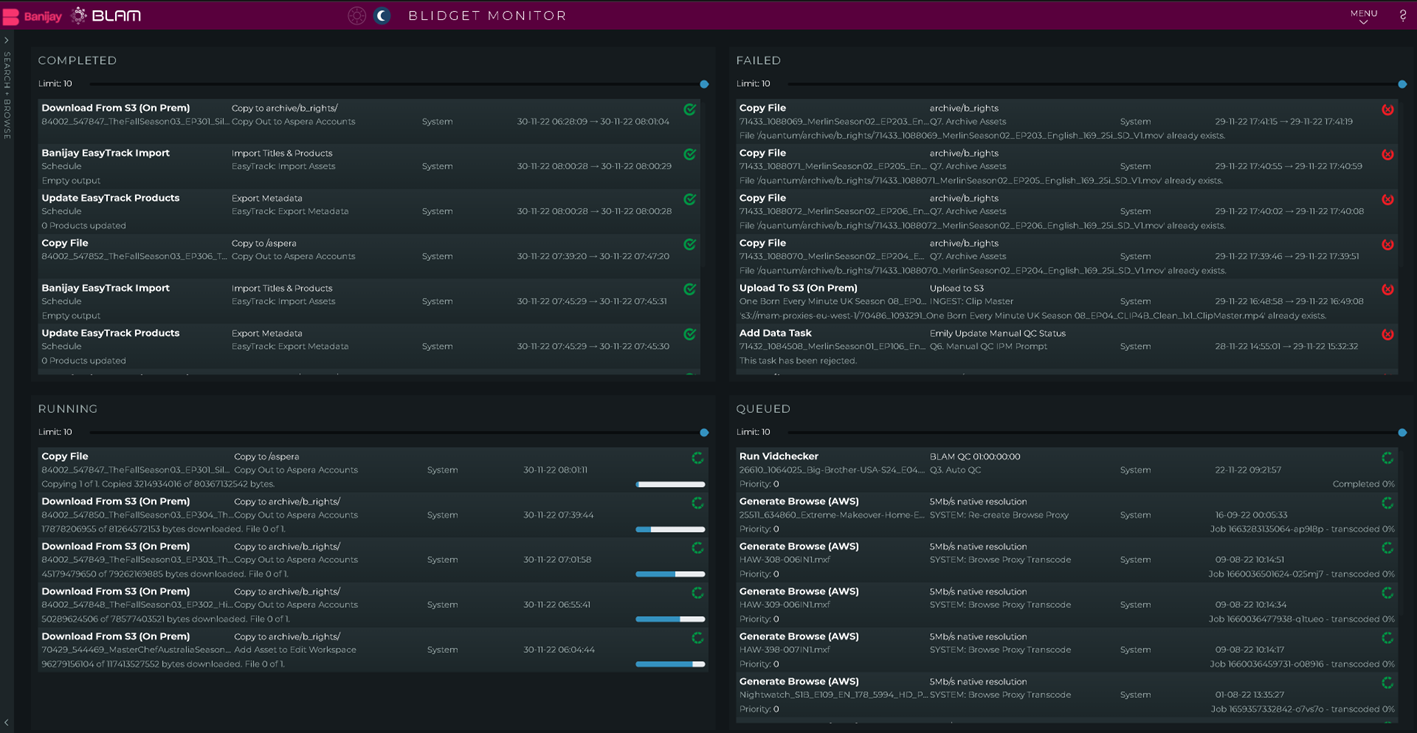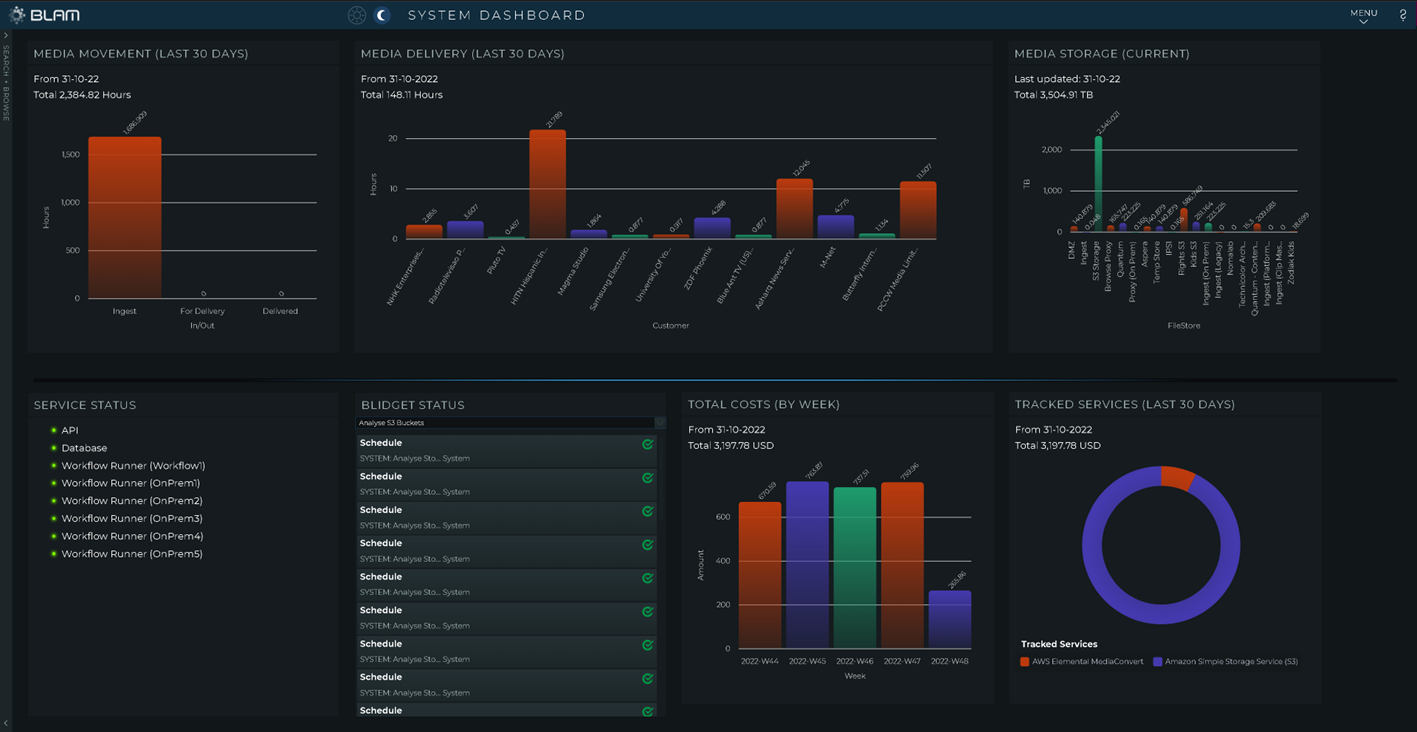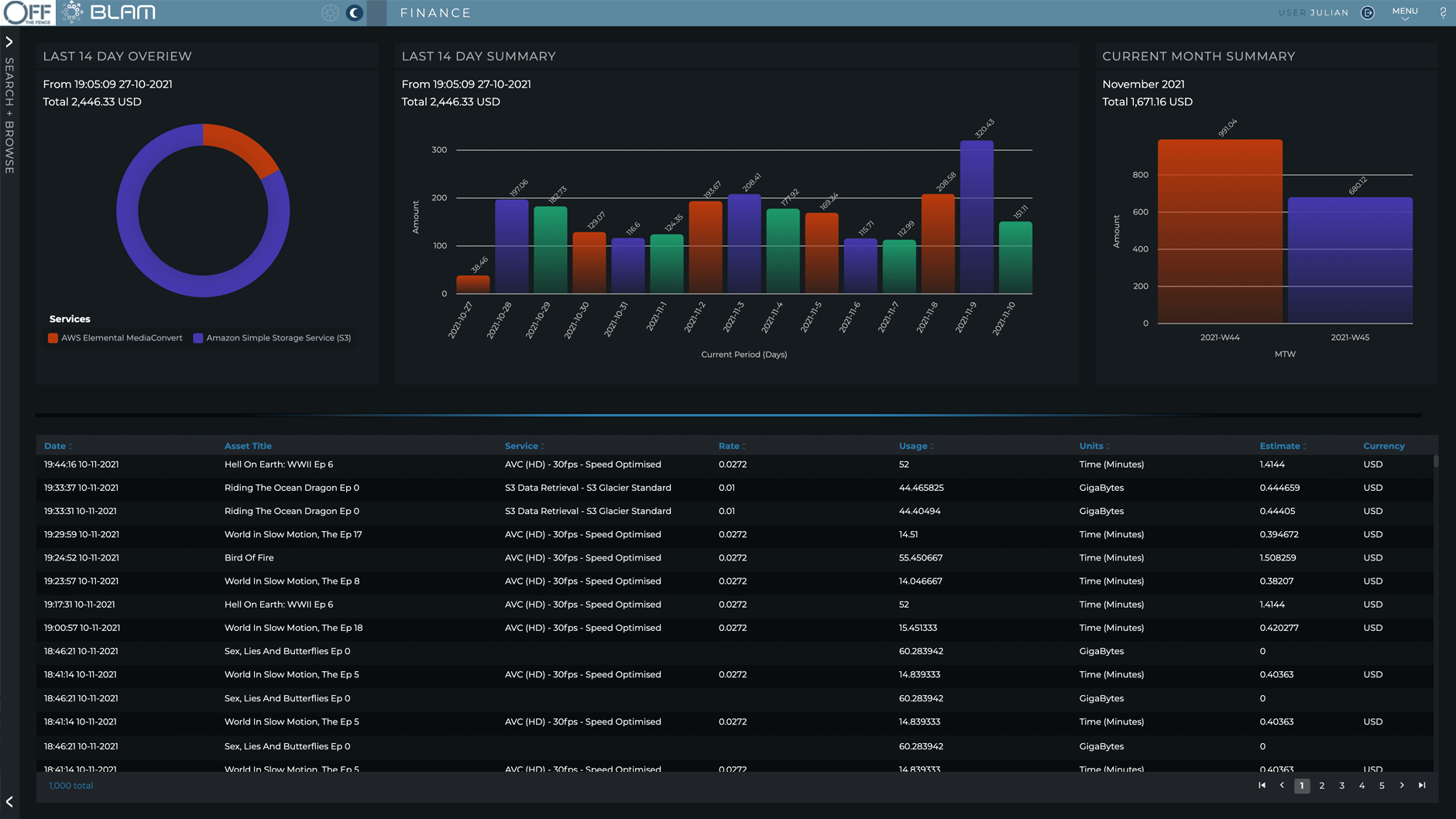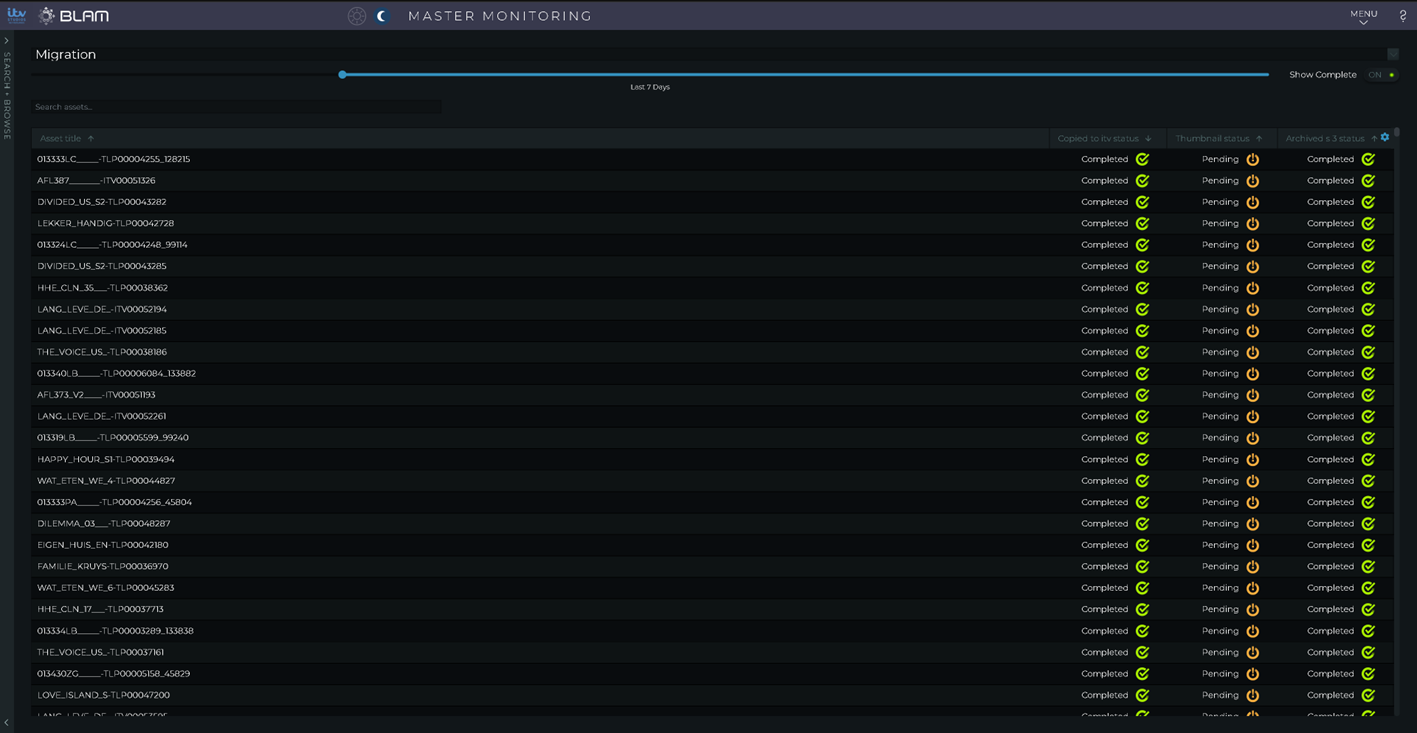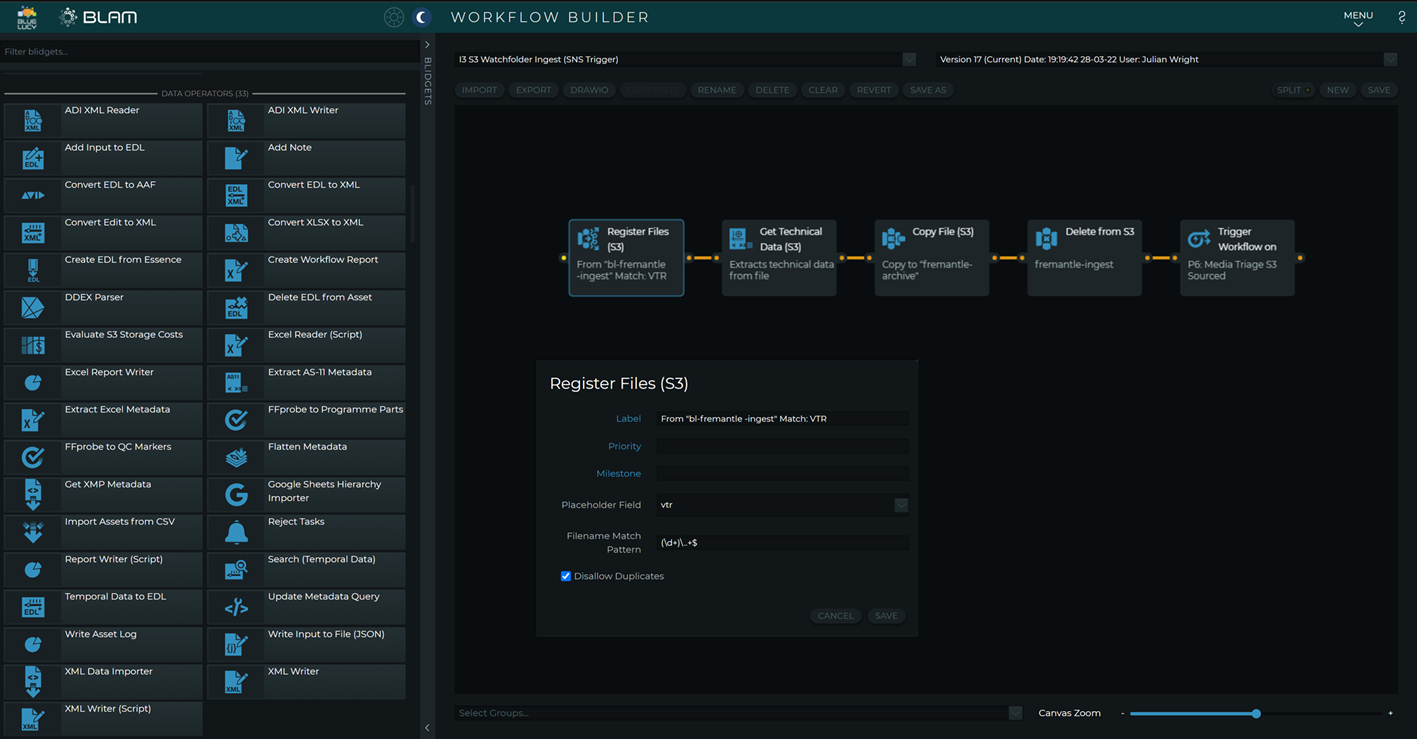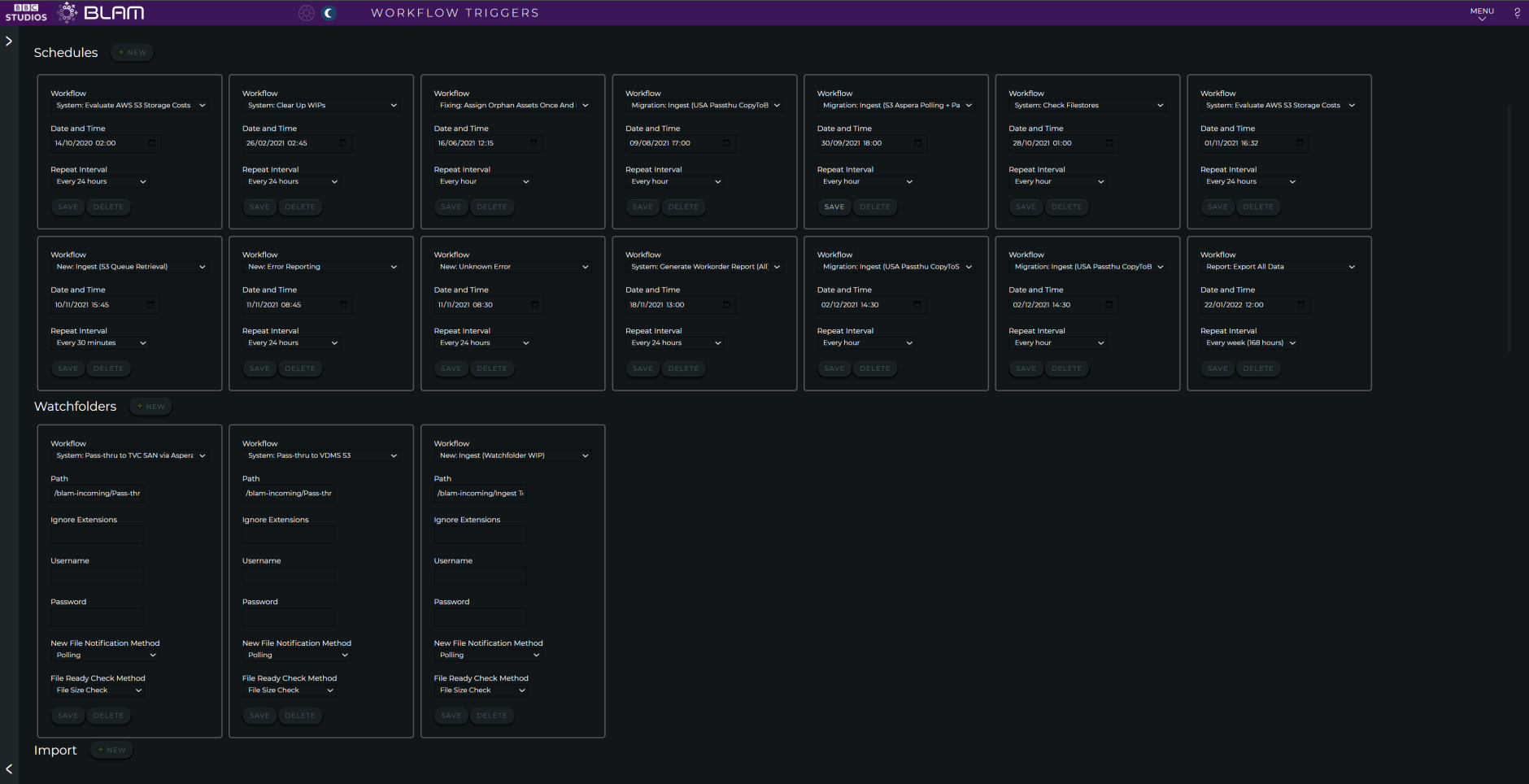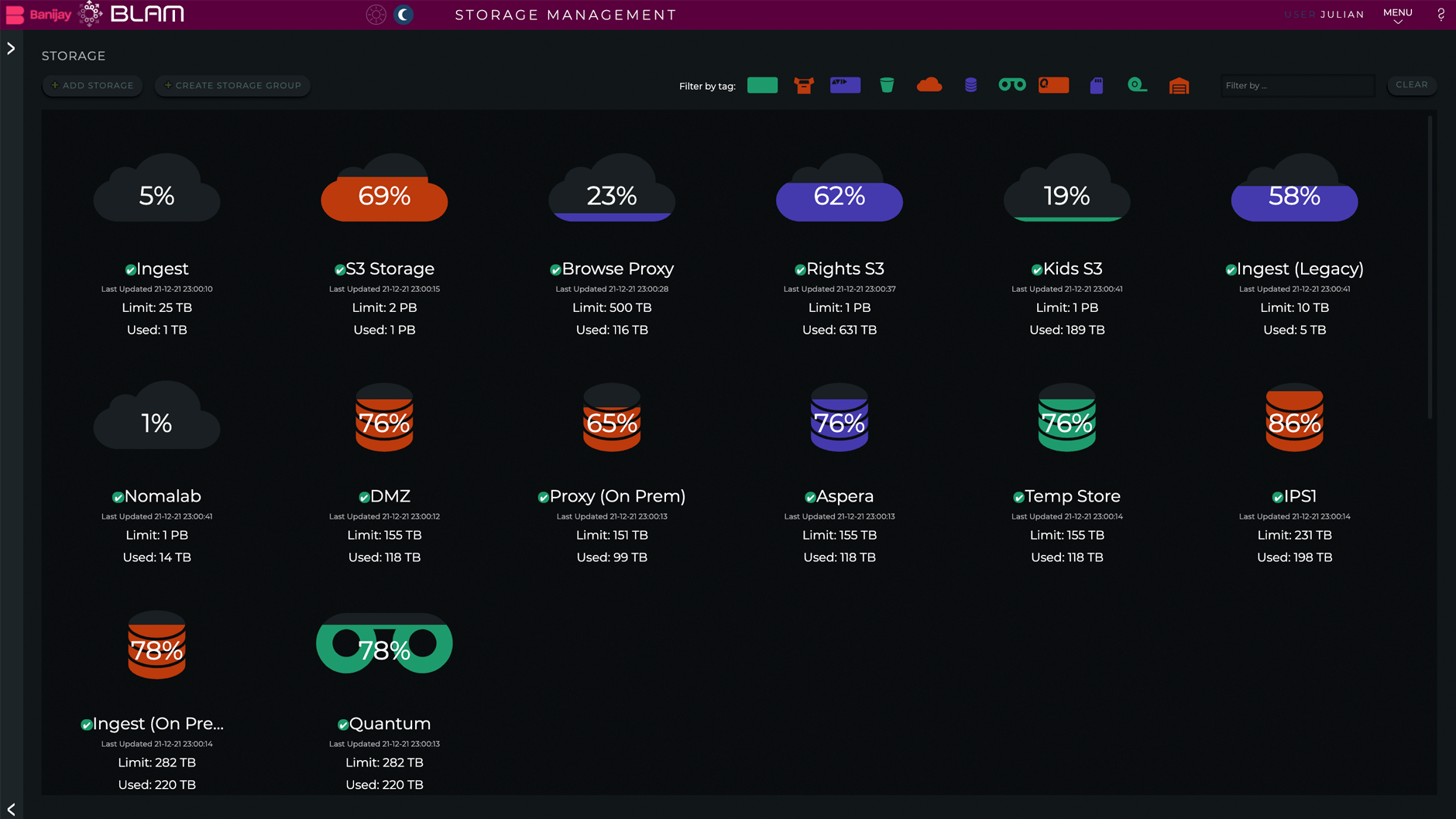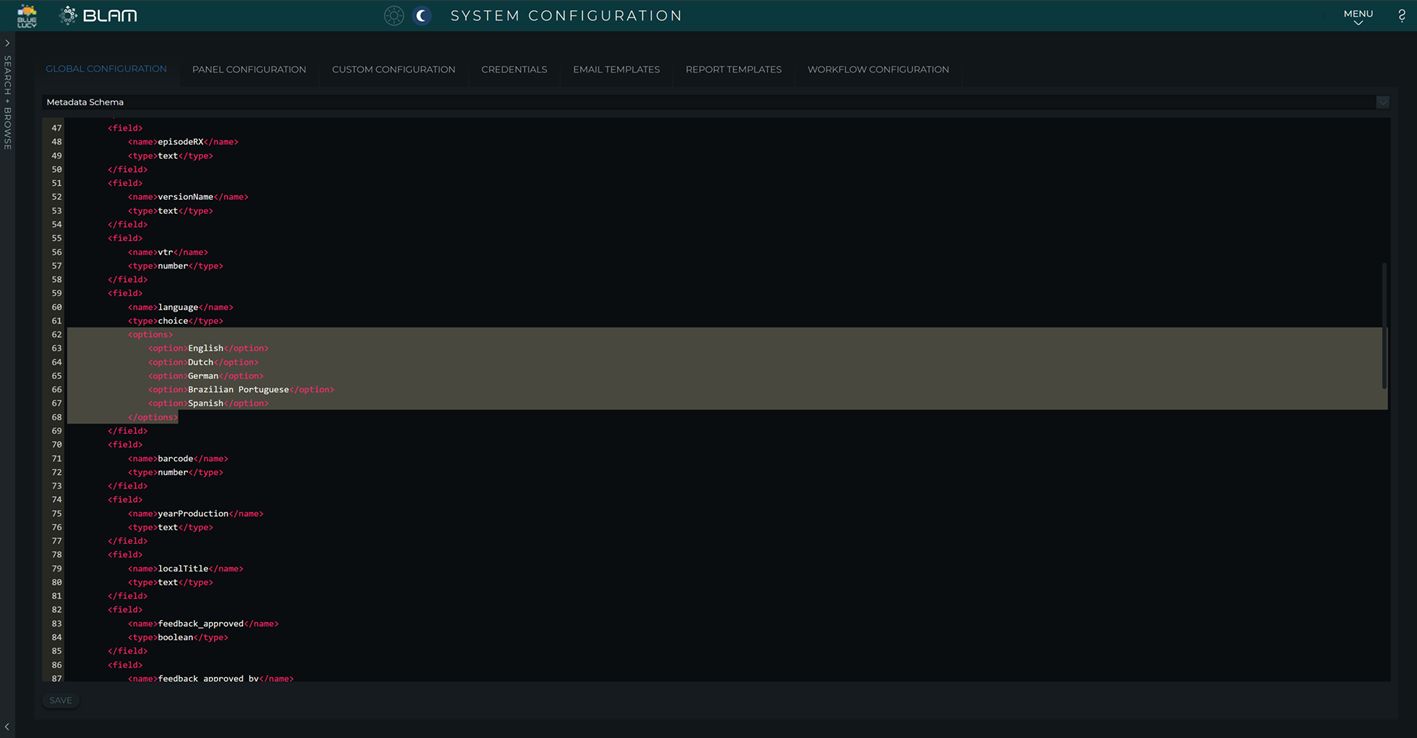 BLAM is truly transformative in operational optimisation
BLAM

Benefits
Operationally Focused BLAM enables your business to:
Create efficiencies through automation:
BLAM enables the controlled migration of production and operations to cloud-based service models.
Reduce operational costs and exploit new revenue opportunities:
BLAM enables content owners and distributors to capitalise on a multiplatform presence.
Connect disparate systems:
BLAM connects production and business systems to provide broad visibility and enables 'low friction' business operations.
BLAM CORE
CORE
BLAM COMBINES MEDIA MANAGEMENT, WORKFLOW ORCHESTRATION, TASK MANAGEMENT AND ADVANCED VIDEO PROCESSING IN A SINGLE SOLUTION
More about BLAM's technology
Workflow Engine The workflow engine is the heart of BLAM and provides the runtime platform for all processes. Operational workflows are operator built using an easy to use interface and support more than 100 functions. The engine is open and supports the running of proprietary code.
Search Engine The search engine provides powerful and super-fast Google style search capability for both structured and unstructured data. The configurable, advanced filters provide a simple user experience and presentation of results.
Task Engine Not all operational processes can be automated so BLAM includes a task engine which supports human operations through task management within BLAM and Workorder processing for inter-system functions. The task engine drives operational efficiency and provides a complete view on business functions for managers.
Access Management BLAM supports a true multi-tenant model for User Access Control (UAC) allowing operators to logically separate the media and access rights between different organisations. The BLAM UAC hierarchy is top down (Organisation > Group > User) with access to functions and media being set at either the organisation or group level.
Media Management BLAM provides an infinitely definable metadata model, supporting controlled vocabularies, validation and display filters / masks. Layered temporal metadata is also provided to support the busy content applications such as sport. The platform supports hierarchical models as well as the creation of simple relationships between assets.
Storage Management BLAM can manage any type, or any number, of storage pools to provide a centralised view. Management of disk, object and cloud storage are supported as standard and connectors are available for a wide range of proprietary and HSM systems. BLAM seamlessly manages the movement of material between storage types within workflows.
Configure
BLAM

your way with

BL

idgets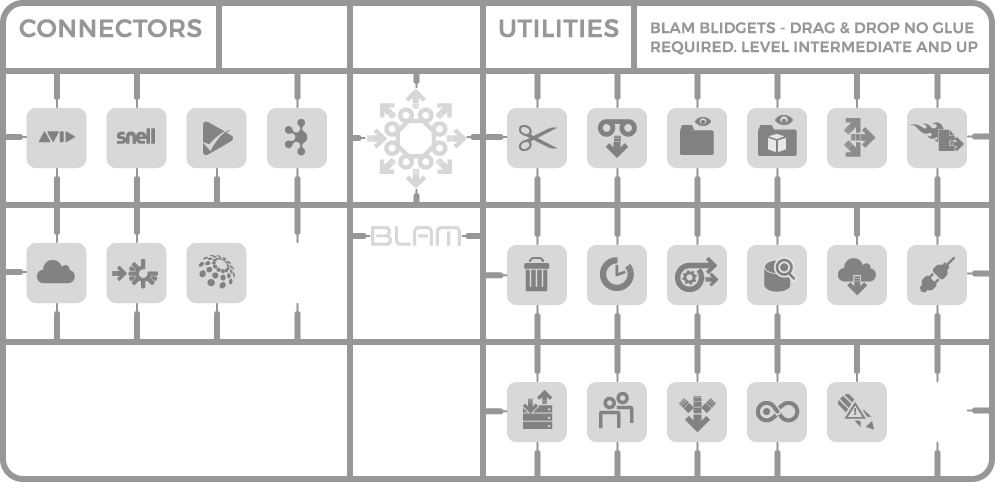 BLidgets (Blue Lucy Widgets) are the functional building blocks of workflows. BLidgets perform a range of specific functions such as file transfers, image scaling, reading metadata from a file or parsing an XML document.
BLAM is equipped with more than 100 utility BLidgets as well as an ever-expanding range of connector BLidgets which are used to access third party platforms and services.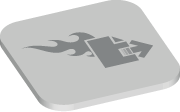 See all BLidgets
BLAM bolt-ons
StoreFront
StoreFront is the simplest and most cost-effective way to monetise a media content catalogue. The white-label content publishing and point-of-sale platform enables content owners to create a customised, branded, public-facing portal through which material can easily be searched, retrieved and purchased. StoreFront can be seamlessly deployed alongside a corporate website without expensive development and with a short time to market. More
BLidget SDK
All BLAM functions are available via a Swagger-documented REST API. That is further supported by a full SDK meaning operators with an in-house development capability can develop their own BLidgets. Ideal for developing robust connector to existing proprietary systems or perform specific functions the SDK is the same framework that the Blue Lucy development team use to build BLidgets, so it is extremely robust and well maintained. The SDK allows developers to use any .NET Standard library which provides the freedom to integrate any 3rd party component. When the BLidget code or function is written, it is bundled using our publishing tool and may be deployed to a live running BLAM. On deployment the new BLidget is immediately available for use in the workflow runner without the need to stop any ongoing operations.
Adobe Premiere Pro Plug-in
The Adobe Premiere plug-in provides access to all the core asset and workflow management features of BLAM from within Adobe Premiere's interface. Editors can search for existing media, manage bins and projects as well as export and trigger downstream workflows such as automated transcode and delivery.
ProducerPortal
ProducerPortal is an on-line content review portal designed to support the production process from the producer's perspective. The portal provides easy to use tools for reviewing rushes, shot selection, editorial approval right through picture lock and craft edit. The portal includes collaborative tools supporting frame accurate mark up and basic editing to reduce time in the edit suite. The portal may also be used to securely showcase finished material in a branded screening room.
BLOT
Launching, growing, and evolving OTT (Over the Top) platforms can require significant investment from a commercial, resource and operational perspective. BLOT (Blue Lucy Over the Top) is a direct to consumer media streaming service which allows content owners to engage directly with audiences through an immersive and feature rich front-end experience. BLOT is templated yet highly customisable white label platform that may deployed into service alongside BLAM. BLAM acts as the content preparation platform for the consumer proposition with BLOT providing the user experience curation, the subscriber management function and the direct to consumer content delivery network.